About Earth Sun Moon Trading Company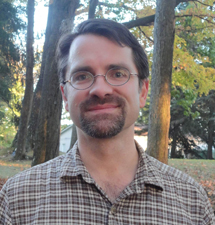 Nathan Depew, President
It started quite innocently in the basement of a local record shop in 1996, but over the years Earth Sun Moon Trading Co. has grown into what you might call a successful company. (Which means there are lots of good folks working here and that I actually get a steady paycheck and a decent car to drive.)
Our nature-inspired designs are known for a quirky sense of humor and top-notch artwork, but many people don't know that Earth Sun Moon has become much more than a T-shirt company. It has become a place where each customer and employee is valued and respected, a place that gives back to the community, and a place that puts people above profits.
Maybe you've heard that you can't make money if you're concerned about treating people right. I have to tell you—it's not true! I've discovered that the ordinary, small-town Americans of Grove City, PA are capable of brilliant creativity, staggering productivity and an almost embarrassing loyalty. Giving them the chance to prove it is one of the best reasons I go to work every day.
I've also discovered that people who feel valued are more likely to value others in turn. That's why you can expect to get the best customer service of your life from the great people here at Earth Sun Moon. There is a reason we're an A+ rated member of the Better Business Bureau. It's not our policies (although being organized helps). It's because we care! Our four-fold mission is:
To be good to our customers. You make our company possible—after all, you pay our paychecks—and we don't intend to forget it. If for any reason you are not satisfied with our company, we won't rest until we make things right. As you would expect from a people-oriented business like ours, we take the privacy of our customers seriously.
To be good to each other. Our company culture is based on the ideal of mutual respect for our fellow employees, our business associates and our community. We feel that our efforts to be fair, honest and kind to the people we work with every day are of the greatest value.
To be good at what we do. All of our design work, printing and embroidery are done in our own facility in Grove City, Pennsylvania. We take pride in our work and go to great lengths to make sure that every garment we produce is top-quality.
To be good to the earth. It's the only one we've got! We take every opportunity to recycle and implement practices to reduce our consumption of natural resources. We also buy the majority of our blank apparel from Gildan, a company that has made a profound commitment to environmentally sustainable business practice and fair trade.
Gildan does its manufacturing overseas—in Honduras and Mexico, mostly. Companies who send jobs overseas are not known for valuing either people or the environment, but Gildan is different. Besides its own strict policies ensuring that employees and the environment are improved—not exploited —by Gildan's presence, Gildan submits itself to the scrutiny of two watchdog organizations: Worldwide Responsible Apparel Production (WRAP) and the Fair Labor Association (FLA). And here is the best part: Neither you nor Earth Sun Moon are paying more for Gildan shirts than we would with a competitor. Gildan consistently provides us with comfortable, durable garments at a very competitive price.
I hope you enjoy wearing our unique apparel as much as we enjoyed creating it! Thanks for shopping with us, and thanks for taking the time to get to know us better. I hope you'll be back again soon.
All the best,
Nathan A. Depew,
President